Commercial flooring has been one of our specialties for over 50 years.
We work with local businesses like these every day: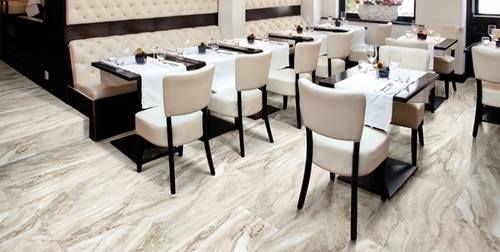 Schools
Banks
Community Centers
Hospitals
Physician's Clinics
Insurance Offices
Legal Firms
Theaters
Architectural Firms
Hotels
Auto Dealerships
Retail Stores
Shopping Centers
Hair Salons
Grocery Stores
Fitness Centers
And Much More!
Unmatched Selection
We offer the latest flooring, including modular tiles and rolled goods from the top manufacturers. Choose from trusted names such as Lee's, Bigelow, Mohawk, Shaw, Armstrong, and many, many more.
Experience You Can Trust
Our commercial flooring pros know their stuff and can help you with key issues such as:

Carpet Flammability
Static Electricity Implications
Non-PVC Available products
Fiber Characteristics
Recycled or Renewable Fibers
Manufacturer's Warranty Details
Design Professionals at Your Service
Searching for a unique, custom look? Our design pros and artisan installers can work together to turn the ordinary into the extraordinary. Stylish, curves and unique patterns are just the beginning. From bold statements to subtle creative touches, we can do it all.
Pro Trade Credit Program
We understand the challenges trade professionals face every day and we've designed a credit program around that, with features such as:
A Generous Line of Credit
Quick & Painless Application Process with NO Cost to Sign Up
Monthly Statement with Itemized, Job-Level Details
Certified Installation
Our certified, professional installers ensure that your job is done on time and done right the first time.
Emergency Service & Repairs
We provide 24-hour emergency repair service for those times when a repair just can't wait. Our experienced technicians have handled some of the most difficult repairs in the industry and are on-call ready to serve.
CONTACT US TODAY for more information.