Carpet One is a co-op of over 800 independently-owned flooring stores. Our 4 locations in Carroll, Ames, Spirit Lake, and Urbandale are owned and operated by the Bierl family from Carroll, Iowa. We're a 3rd generation company that began with one man in a small town. Here's our story...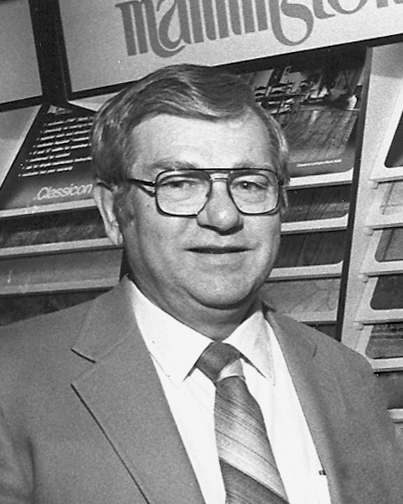 Harold Bierl
In 1954, company founder Harold Bierl opened Bierl Supply Company in his hometown of Carroll. The store initially focused on hardware and paint, and primarily operated as a supplier to his other business, Bierl Construction.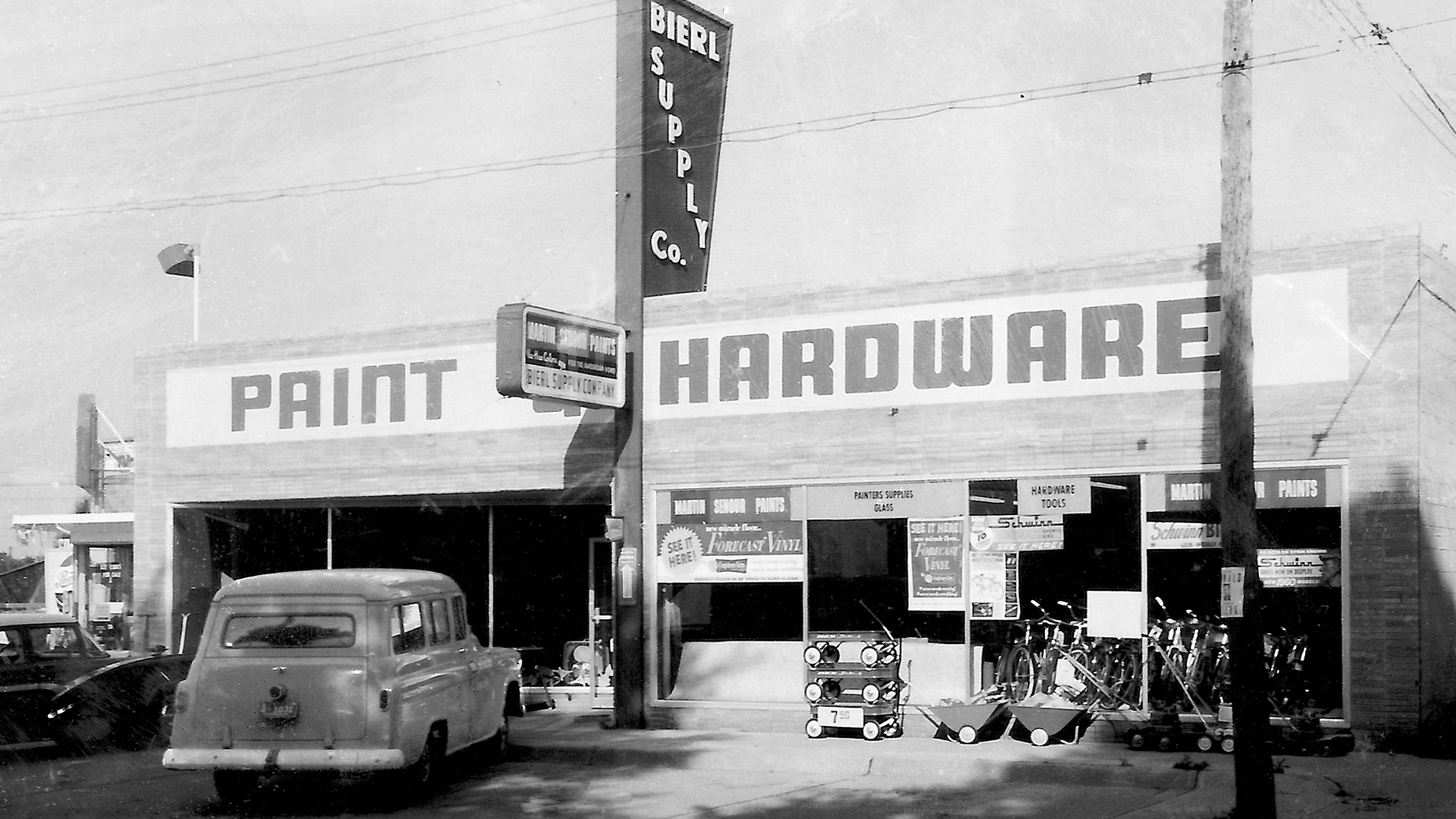 Our original Carroll store in the 1950s.
The store quickly found its niche and by the early 1960s the paint and hardware were gone and the focus was solely on flooring, mainly carpet. It was around this time the store began using the name "Bierl's Store of Floors."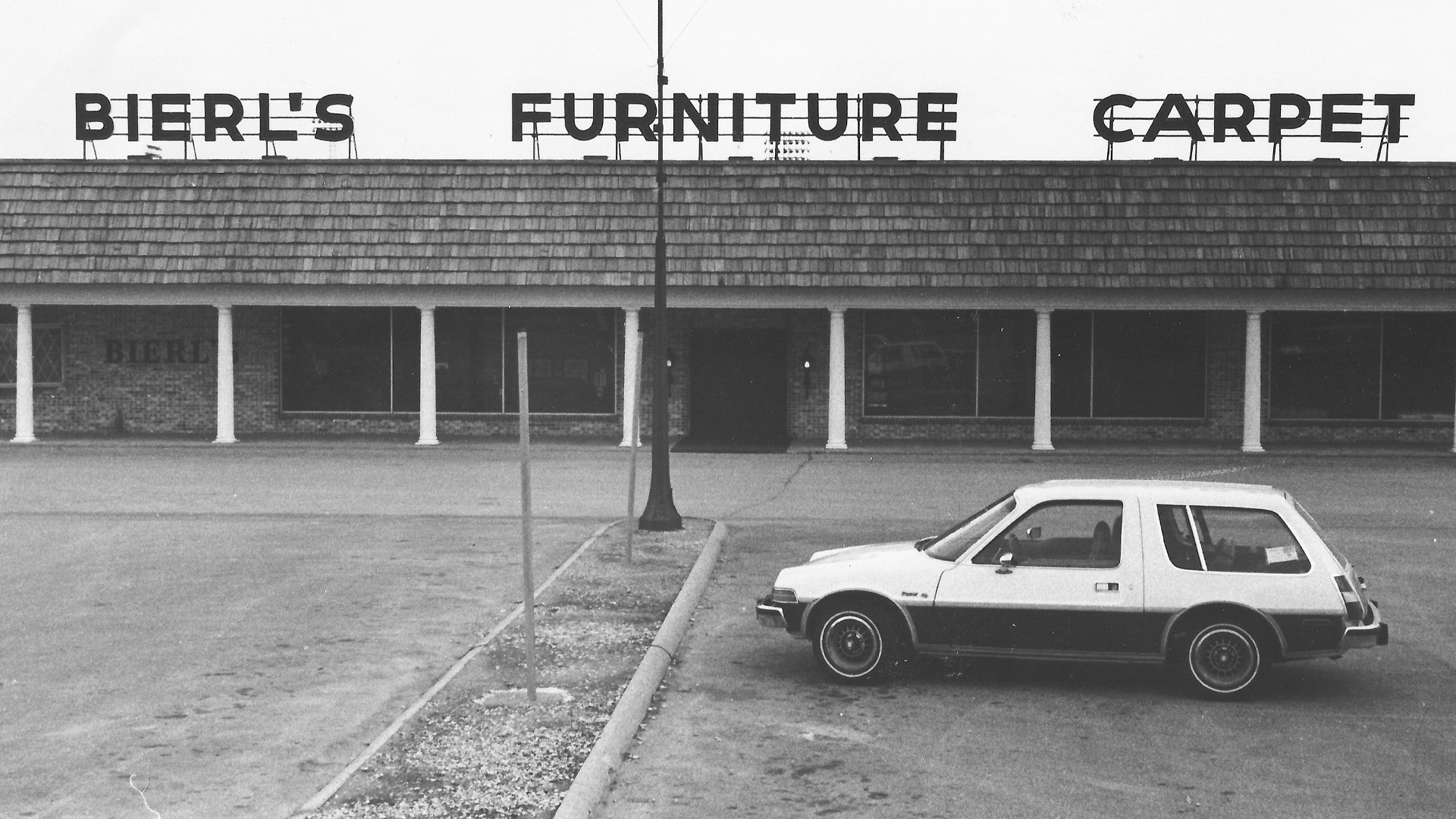 Bierl's Furniture & Carpet original Parkway Plaza location, 1970's
In the late 60's, Harold Bierl began developing plans for a new retail center, Parkway Plaza, on Highway 30, just east of Carroll's downtown. In 1968, "Bierl's Furniture & Carpet" became the plaza's first store, moving into the space currently occupied by the New Hope Village Bargain Shop. The business thrived and continued to grow, and in 1982 expanded into the neighboring building to the west - our current location - and added a new warehouse.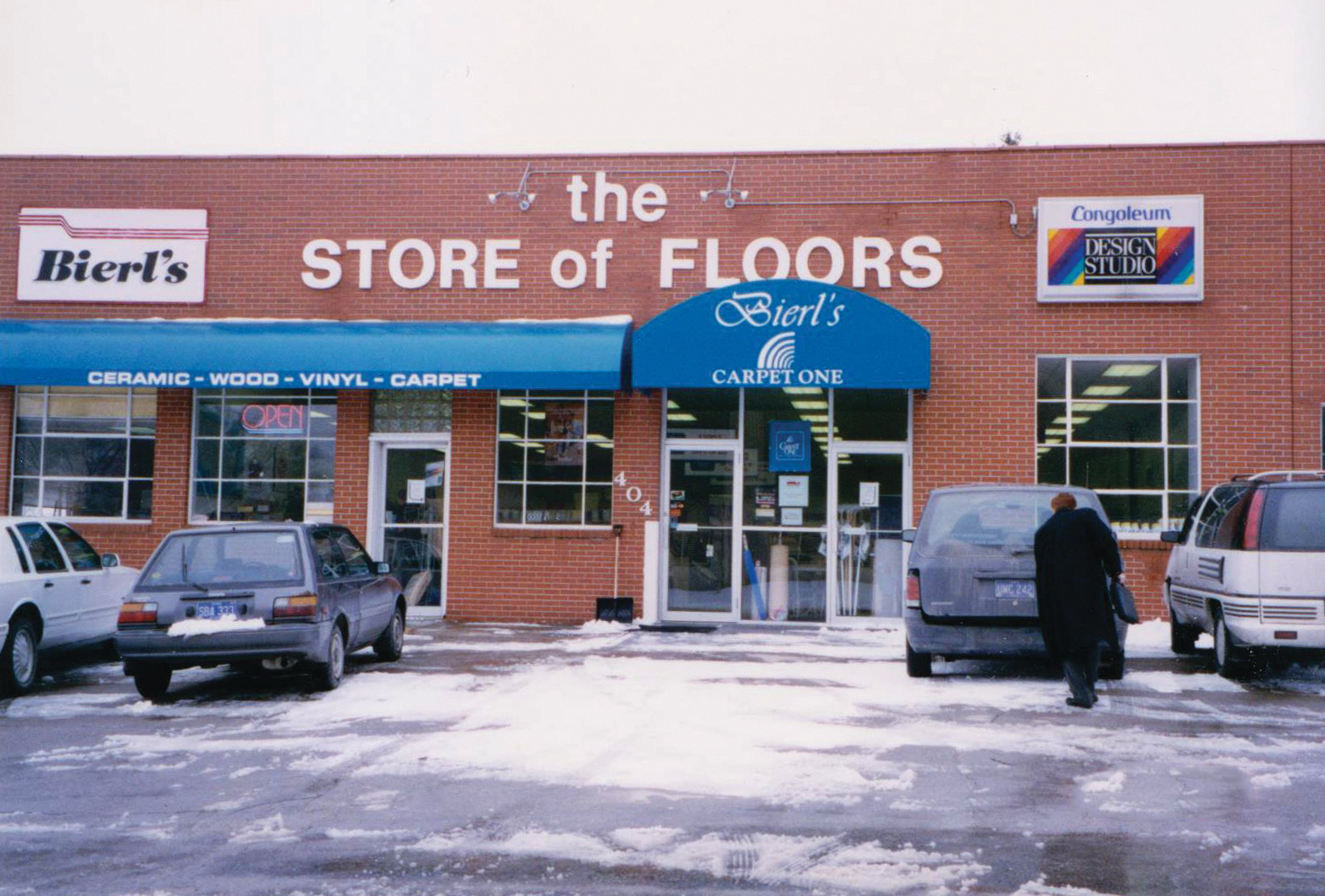 Original Ames store near North Grand Mall

By the 1990's the company had been servicing a growing number of customers outside of the immediate Carroll area. In 1991, they took a big step and opened a second location in Ames, Iowa. Originally located on North Grand, adjacent to the mall, the store later moved to its present location on South Duff Avenue.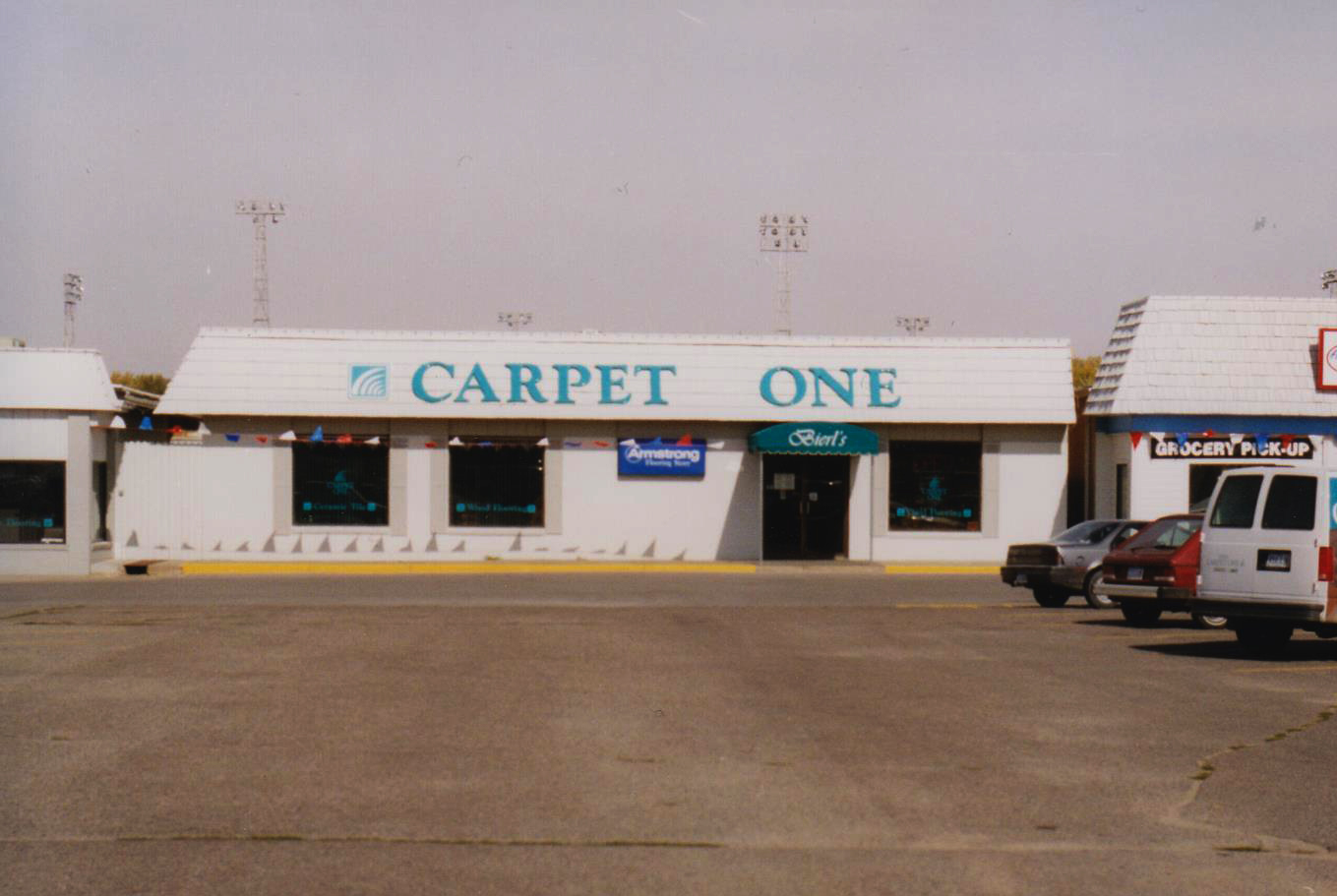 Bierl Carpet One in Carroll, 1990s
In 1995, "Bierl's Carpet & Furniture" joined the Carpet One co-op of over 800 independently owned flooring stores, becoming "Bierl Carpet One." The furniture side of the business, which had been operating out of the Carroll store's original Parkway Plaza building, was phased-out. That building became a grocery store and today is the home of the New Hope Village Bargain Shop.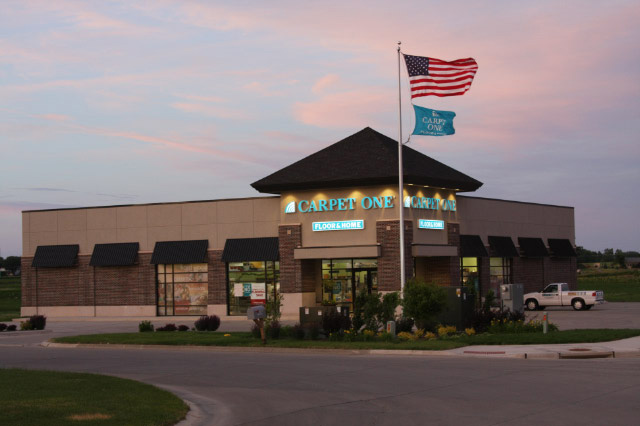 Carpet One in Spirit Lake, 2006
The early 2000s was a time of significant growth. For years, the Bierl family had spent summer vacations at lake Okoboji, near the Minnesota border. Harold Bierl saw tremendous opportunity in the Iowa Great Lakes region, and in September of 2006, a store was added in Spirit Lake.
Harold Bierl's company had always been a family business, employing many family members over the years. Sons Todd and Randy both worked with their father since childhood, and by the early 2000s they had begun taking over most of the day-to-day operations.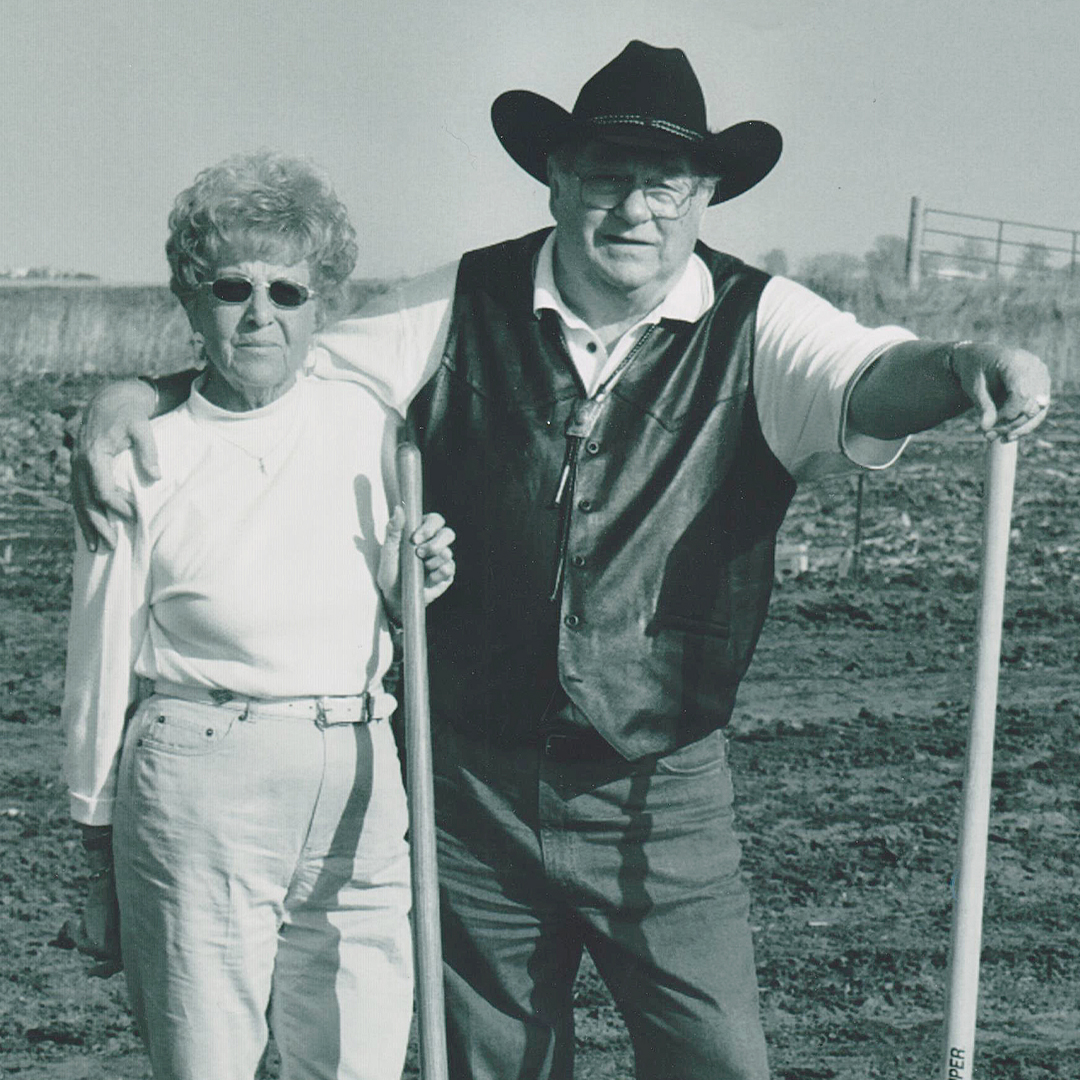 Lois & Harold Bierl, mid-2000s
In 2007, company founder Harold Bierl passed away. From the early days in the 1950s, he had been an active leader in the Carroll business community and the driving force behind our company's success.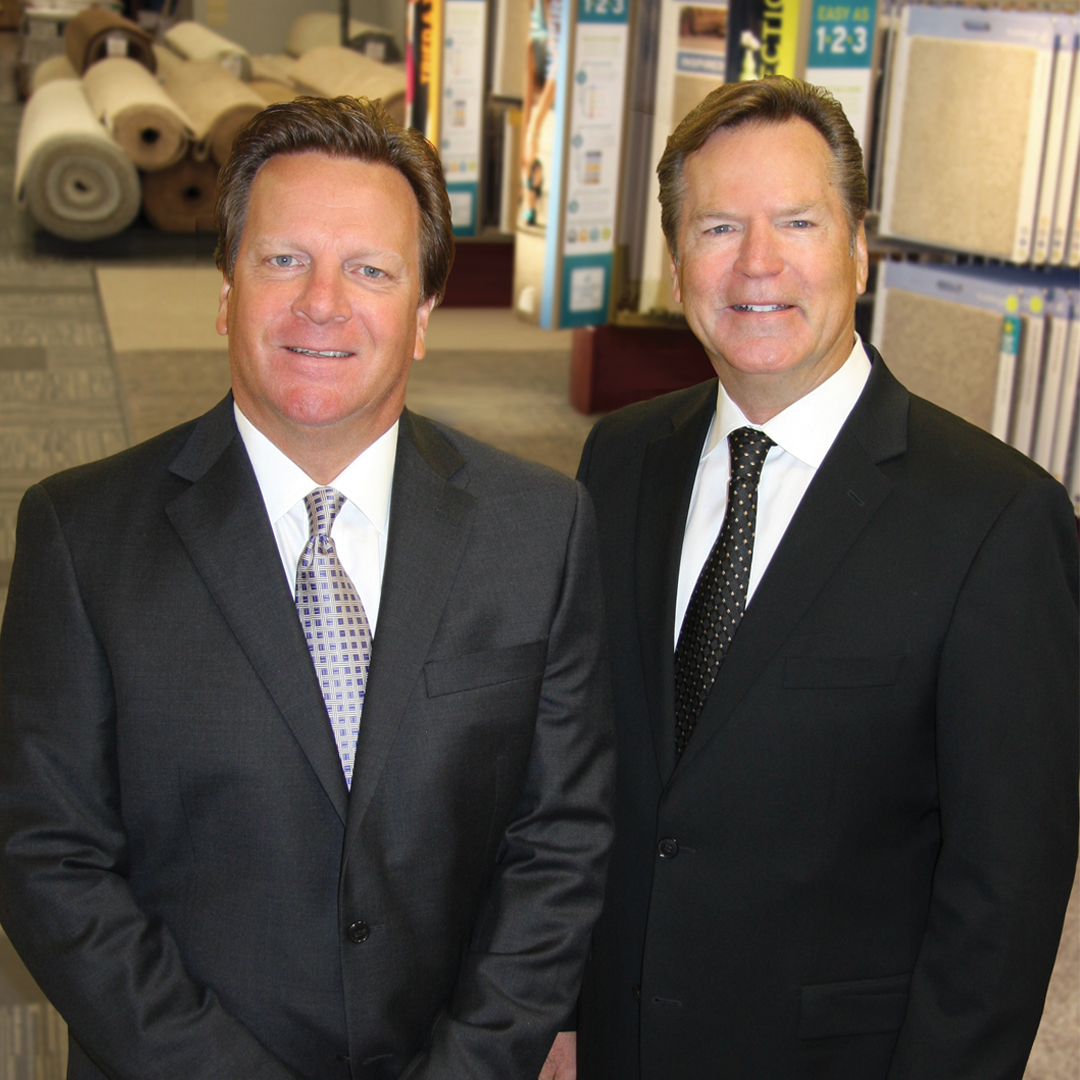 Todd & Randy Bierl, 2010
After Harold Bierl's passing in 2007, ownership of the company was handed down to his sons, Todd and Randy Bierl.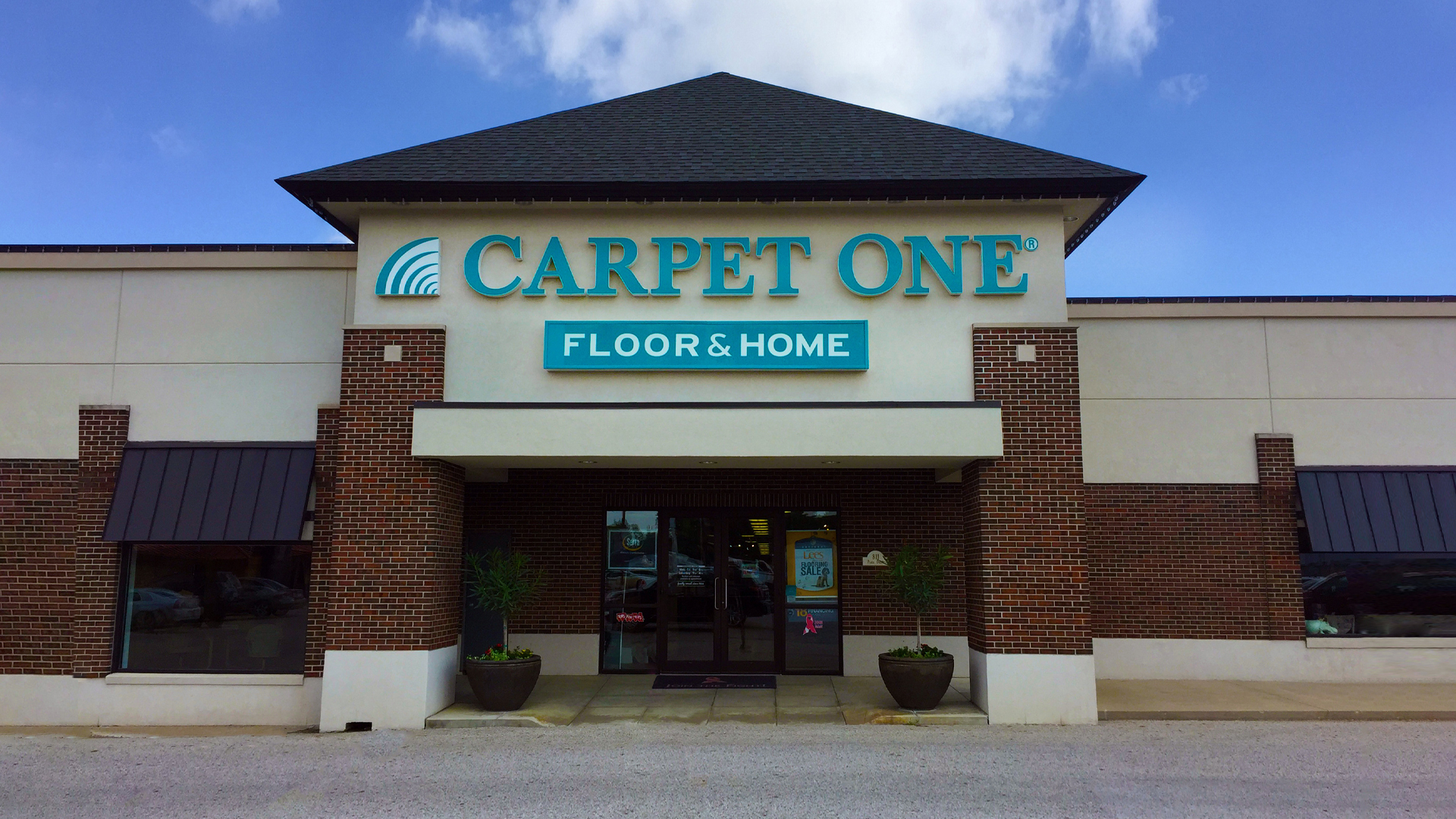 Carpet One Floor & Home in Carroll

In 2008, the Carroll store underwent a major facelift, with a new front façade and a completely remodeled showroom. At over 25,000 square feet, the Carroll location became the largest flooring store in the state of Iowa. All four stores became known simply as "Carpet One Floor & Home," to emphasize the strength of the Carpet One brand.
At Carpet One's national convention in 2008, Todd and Randy Bierl were presented with the Spirit Of Carpet One Award, in recognition of their contributions to the co-op, and the support of fellow members during the previous year.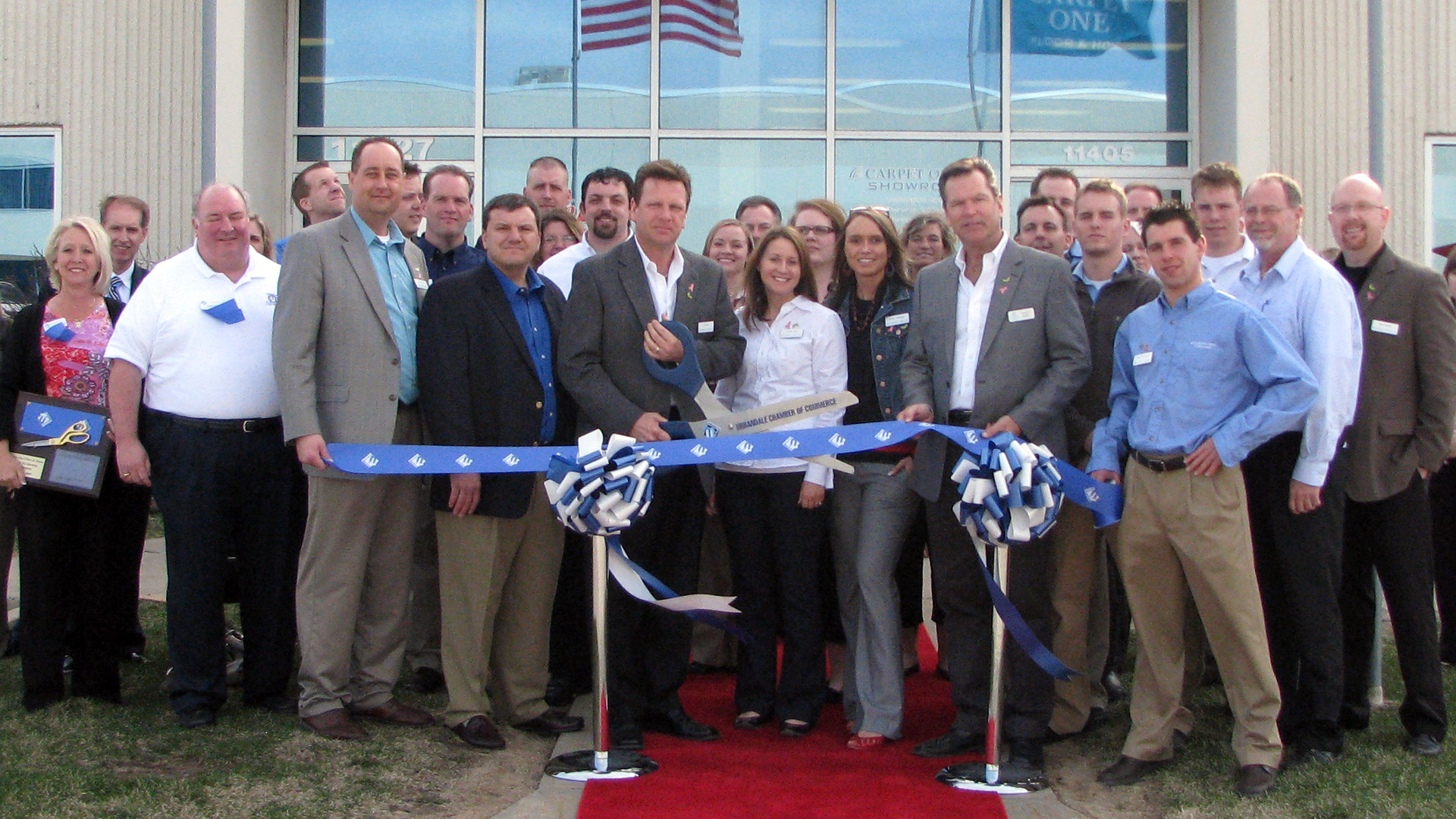 Urbandale Chamber of Commerce Grand Opening Event, 2009
For years the company had looked to expand into the Des Moines market, and in 2008 an opportunity arose in Urbandale. The store was originally located on Meredith Drive, and then in 2011, it moved to its current location on NW Urbandale Drive.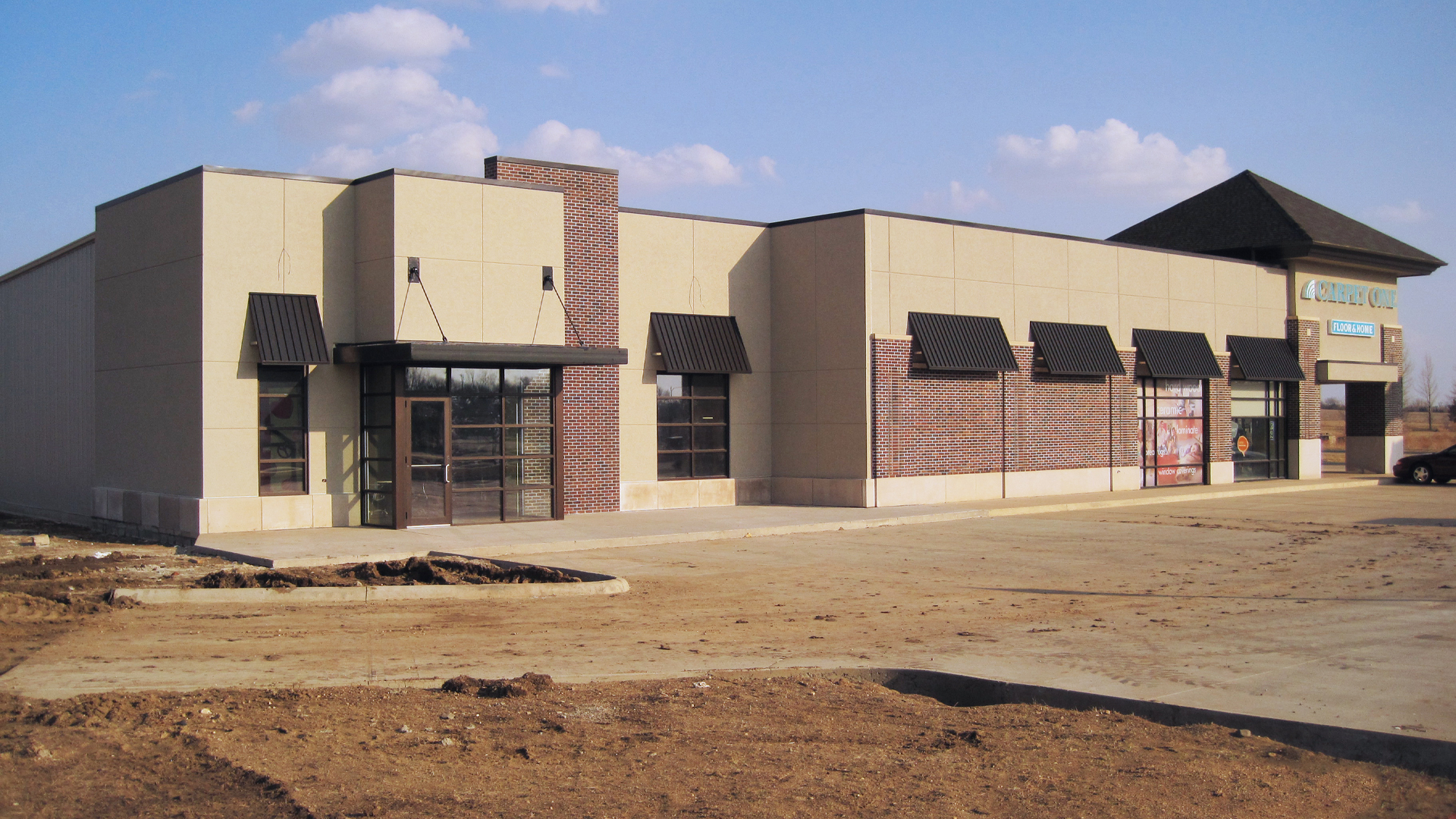 Spirit Lake store's new addition under construction, 2012
In 2012 the Spirit Lake store went through major changes with the addition of a new, much larger warehouse and new showroom space highlighting Hunter Douglas window fashions.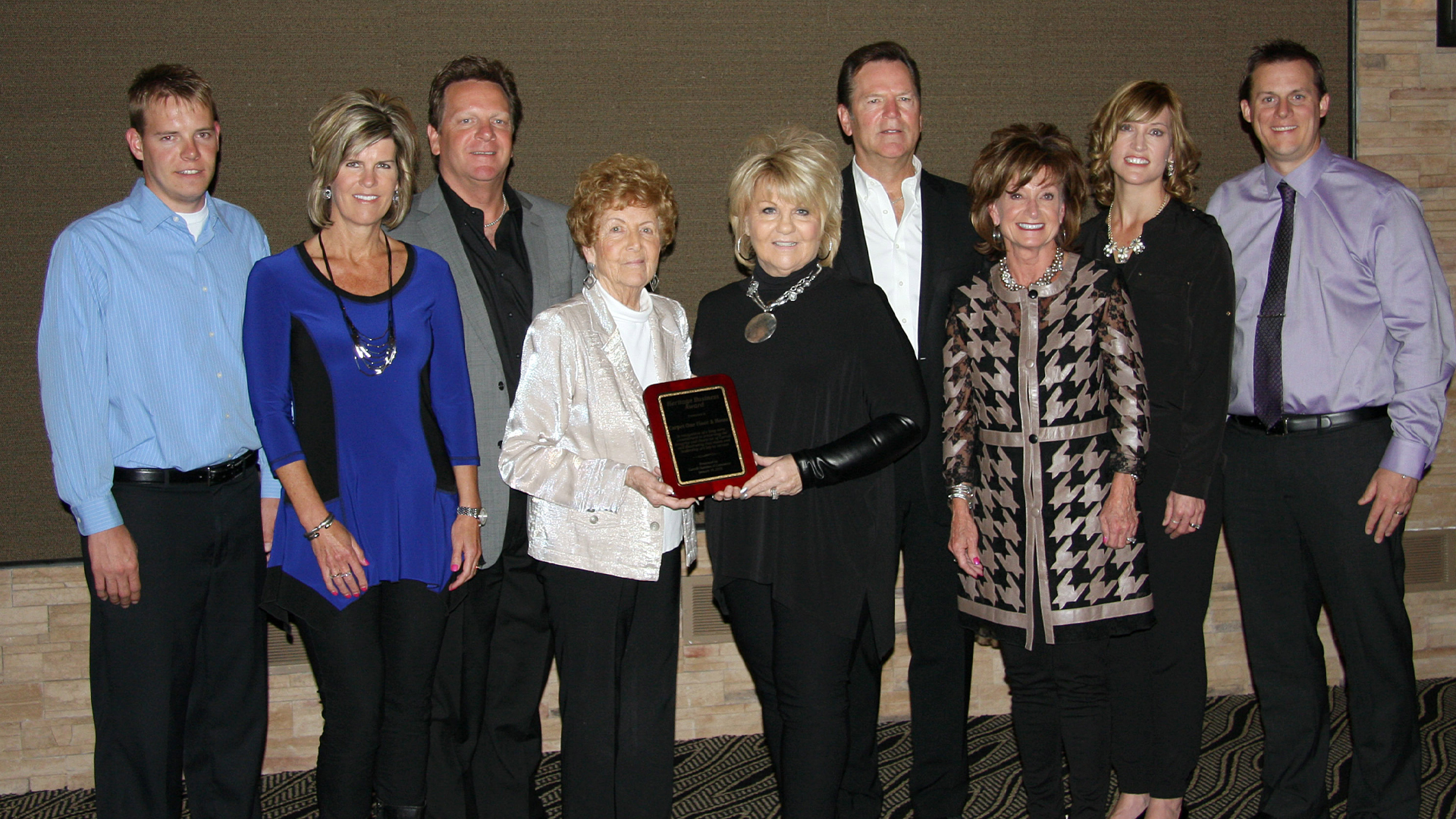 Members of the Bierl family with the Carroll Chamber of Commerce's Heritage Award, 2015
In 2015, Carpet One in Carroll was presented with the Carroll Chamber of Commerce's Heritage Award, in recognition of the company's contribution to the local community over the past 60 years.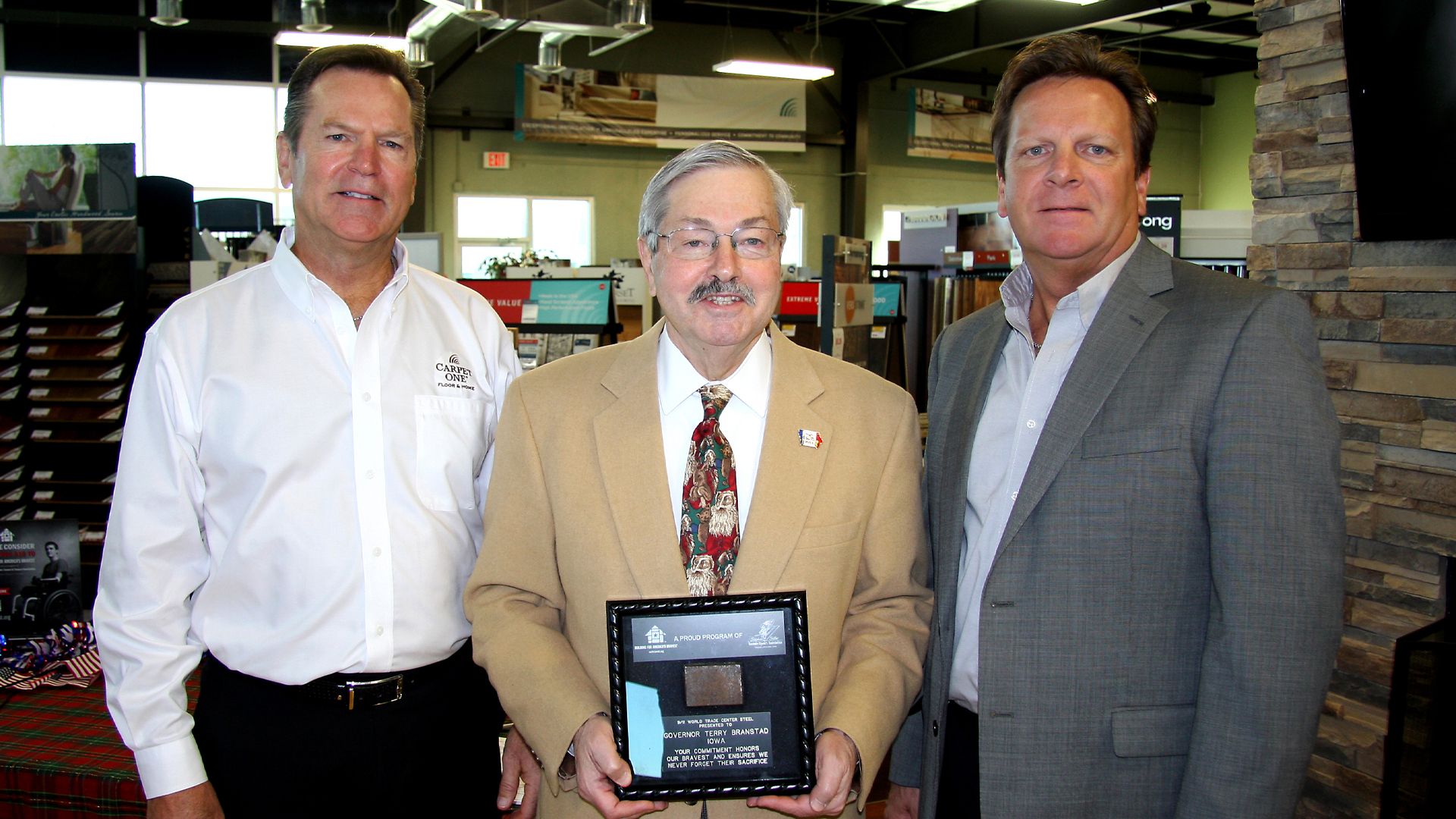 Randy and Todd Bierl present Iowa Governor Terry Branstad with a piece of World Trade Center steel, 2015
For many years, Carpet One has been a supporter of the Building For America's Bravest program on a national level. In 2015, each of our stores was visited by New York Firefighter Ed Breen and presented with a special plaque containing a piece of World Trade Center steel. The presentation ceremony at our Urbandale store was attended by local firefighters and Iowa Governor Terry Branstad.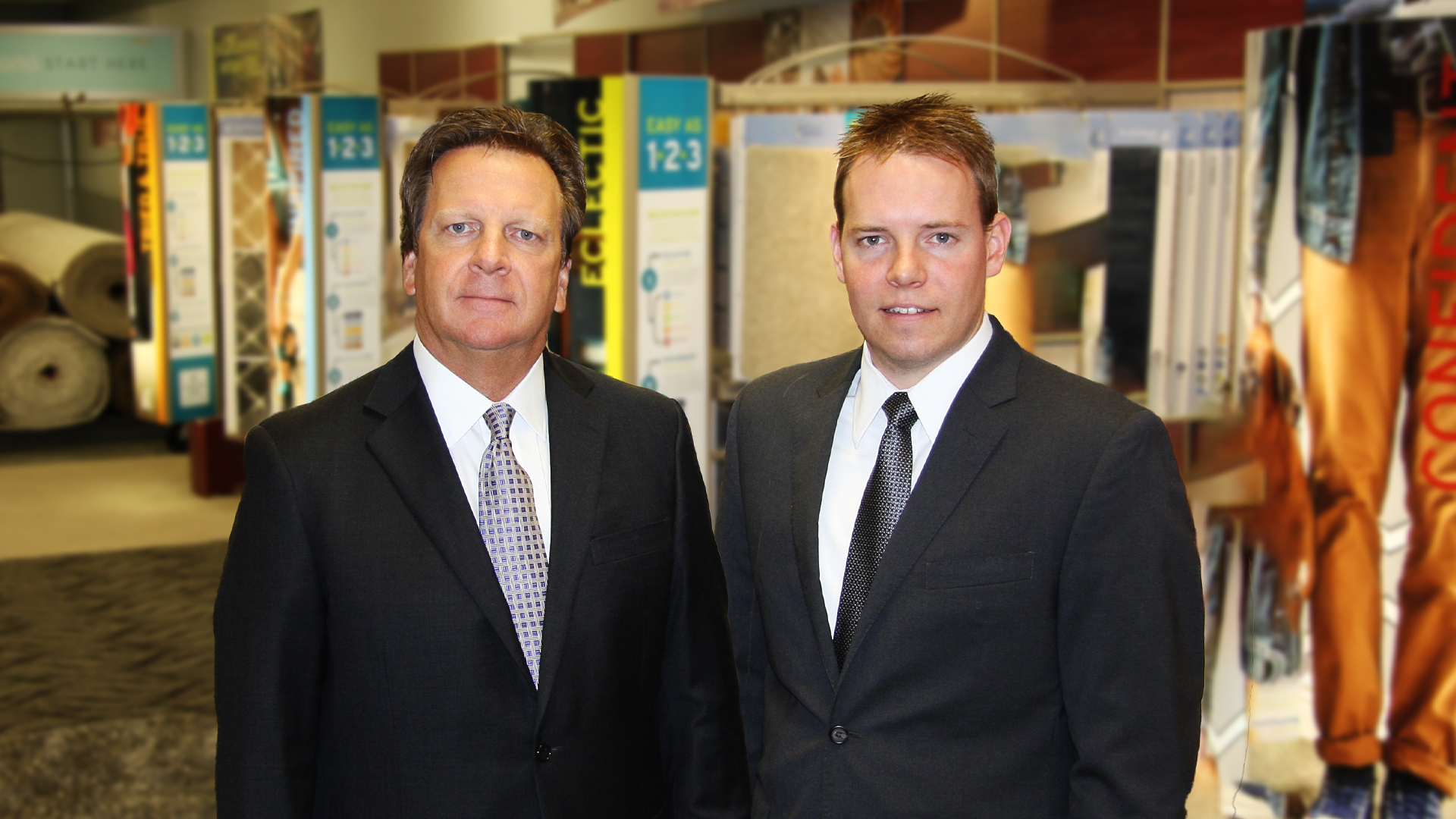 Todd & Colin Bierl, father and son owners, 2020
In 2020 Randy Bierl retired and Todd's son Colin became a part-owner of the company. Colin Bierl also serves as the Carroll Store Manager. Today the focus is on the future as this 3rd generation family business continues to grow and expand.